Parler Is Back Online After a Month's Absence: Here's What You Should Know
Parler, a conservative social media platform, has reopened after being taken offline a month ago for allowing incendiary messages regarding the Capitol Hill insurgency.
The Twitter alternative stated in a statement Monday that it was utilizing independent technology and was not "depending on so-called 'Big Tech.'" Amazon Web Services, which discontinued support for the startup in January, has clashed with the company. Google and Apple both removed Parler's app from their respective app marketplaces.
Parler will be back up for existing users in the first week of the relaunch. The next week, new users will be allowed to sign up.
Parler's comeback comes after a turbulent month for the company, which saw CEO and cofounder John Matze fired by the company's financial backers. The management shuffle occurred as the conservative microblogging site filed a lawsuit against Amazon to have its service restored.
The internet titans' steps to remove themselves from Parler come following concerns that the site could be used to incite more violence in the aftermath of the Jan. 6 attack on the US Capitol by supporters of President Donald Trump, who whipped them up during a rally. Twitter and Facebook have both suspended Trump's account, citing concerns that the president's comments could incite further bloodshed.
Guns and violence were frequently mentioned in Parler conversations leading up to the event, which was organized to bolster the president's bogus allegations that the November election was stolen from him. "By all the Patriots descending on Washington DC on #jan6….come armed," one Parler user remarked in a thread promoting a QAnon conspiracy theory.
Parler had gained appeal among right-wing users in the wake of charges that Twitter, Facebook, and other social media platforms hold anti-conservative prejudice. (The social networks have refuted the allegations.) According to mobile app analytics company Sensor Tower, Parler was downloaded 997,000 times between January 6 and 10, more than ten times the number of downloads the app received between January 1 and 5. Before it was taken offline, Parler had been downloaded over 11 million times since its introduction, with the majority of installs (9 million) originating from the United States.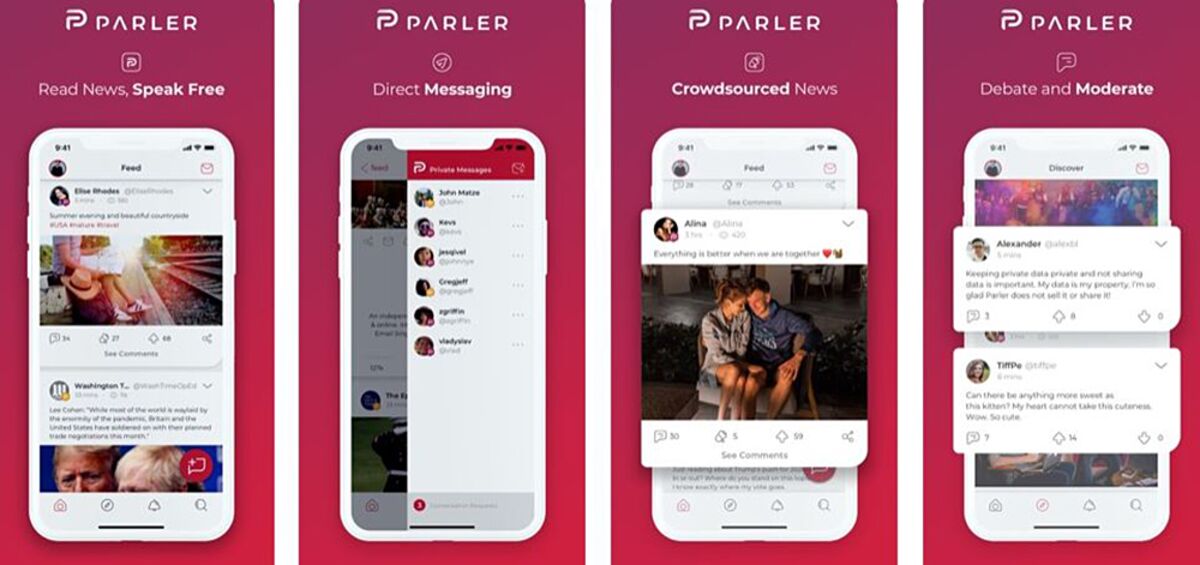 After many news outlets predicted Joe Biden's victory in November, prominent conservatives urged others to join Parler. "Twitter helped the Democrat Party steal the election, and now anything Trump says is being suppressed. Inform everyone you know to join Parler "Laura Loomer, a far-right agitator, told her Parler audience of almost 687,000 people. (Loomer was banned from Twitter and Facebook for breaking their rules.)
Loomer is just one of millions of people who have recently found safety with Parler, which bills itself as a nonpartisan, free speech platform. Republicans such as Texas Sen. Ted Cruz have been supporting the app since Twitter began labeling Trump's posts that erroneously claimed mail-in ballot fraud or praised violence last year.
What exactly is Parler?
Parler, a social media app developed by University of Denver alumni Matze and Jared Thomson, was released in 2018. According to Parler's website, they created Parler because they were "tired of a lack of openness in big tech, ideological censorship, and privacy violation."
According to LinkedIn, the private company is situated in Henderson, Nevada, and has between 11 and 50 employees. Parler means "to speak" in French and is pronounced PAR-lay. However, as more people began pronouncing the app's name as if it were the English word "parlor," that pronunciation gained hold.
The social network is similar to Twitter in appearance. Following accounts causes items to show in a chronological news feed. Users may submit photographs, GIFs, and memes and post up to 1,000 characters, which is greater than Twitter's 280-character limit.
You can also leave a comment on a post and look for hashtags. There's a "echo" option with a megaphone icon that works like the Twitter retweet button, and an upvote icon for a feature that works like "liking" a message on other social media platforms. To sign up for an account, you must be at least 13 years old, as with other social networks.
Who makes use of Parler?
Matze told Fox Business in June that Parler is largely used by conservatives, but that "left-leaning folks" associated with the Black Lives Matter movement had joined the app to "fight with conservatives." He also told CNBC that same month that he doesn't want the app to be an echo chamber for conservatives, citing his dislike for both the Democratic and Republican parties.
"The entire organization was never supposed to be pro-Trump," Matze told CNBC. "The majority of the audience is pro-Trump. I don't mind. I'm not passing judgment on them in any manner."
When you join, Parler requests your email and phone number but not your political party. It also does not position itself as a conservative social network.
However, the network features a who's who of conservative speakers. On the app are former US Rep. Ron Paul of Texas, Trump's campaign, Loomer, and Republican US Rep. Devin Nunes of California. Candace Owens, a conservative commentator, and Alex Jones, a far-right conspiracy theorist, have both been barred from Facebook and Twitter. Parler accounts can also be found on right-wing news websites such as Breitbart News, The Epoch Times, and The Daily Caller.
When you join the app, Parler suggests several conservative users to follow, but there are no liberal users, most likely because they haven't joined the app or have a small following.
There are multiple bogus lawmakers' accounts, including one for Democratic House Speaker Nancy Pelosi.
What is attracting more conservatives to the app?
Conservatives have long claimed that social media platforms like Twitter and Facebook stifle their free speech. These firms have frequently denied doing so, claiming that they have anti-hate speech and incitement of violence policies that apply to all users.
Conservatives' accusations have only become louder since Twitter and Facebook classified Trump's tweets containing false information on voter fraud last week. When Trump erroneously claimed that he had won re-election over the weekend and that millions of mail-in ballots had been distributed to people who had never requested them, Twitter appended a mark to his tweet indicating that the "claim about electoral fraud is contested." Facebook added a different label beneath Trump's words. According to the announcement, Biden is expected to win the US presidential election.
There were rumours around the election time that Trump's campaign was attempting to acquire more Parler followers in order to generate more publicity for it. And politicians like Nunes encouraged more to join. Last year, Nunes sued Twitter and three Twitter users, including one satirically acting as Nunes' cow, for slander, but the case was dismissed by a judge.